Yr 11 Physics GCSE Revision Notes
NB. YOU WILL ALSO NEED THE YEAR 9 AND THE YEAR 10 NOTES, AND THE FORMULAE SHEET!
Formulae you will need to know are in bold type.
basics of kinetic theory - there are 4 states of matter
• In solids particles vibrate about fixed points. A temperature rise provides more KE for particles
and causes bigger vibrations, and expansion occurs.
• If melting temperature is reached, then heat energy supplied (latent heat of fusion) goes to weaken bonds (increasing particle freedom)
NOT to raise the temperature
• In liquids particles have more energy and vibrate about variable points. Again a temperature rise provides more KE for particles
and causes bigger vibrations, and expansion occurs
• If boiling temperature is reached, then heat energy supplied (latent heat of vaporisation) goes to break bonds completely, NOT to raise the temperature
• In gases particles are completely free, they move randomly in straight lines, but experience frequent collisions with the container walls.
The higher the temperature of the gas, the higher the KE of the particles, and the faster the particles move.
• In the 4th state of matter, a plasma, temperature and particle KE is so high that ionisation occurs. Individual gas atoms
get broken up into a plasma of positive and negative ions.
• pressure (in Pa) = Force (in N) / Area (in m2), p = F / A
• In liquids the pressure at a particular depth acts equally in all directions
• In liquids the pressure increases with depth, so in this HEP system the turbines
are placed as low as possible:
• Pressure Difference (Pa) = Height (m) X Density (kg/m3) X g (N/kg), p = h ρ g
• a manometer is used to measure the mains gas pressure, eg in the example below
the gas pressure = 4cm of water (= 0.04m X 1,000 kg/m3 X 9.8 N/kg = 390 Pa), this is the
pressure above external air pressure, so total gas pressure = A.P. + 390 Pa = 101,000 Pa + 390 Pa = 101,390 Pa.
• Gases exert pressure because their molecules continually bombard the walls of the container
- experimental evidence: Brownian motion
• Boyle's Law explains how changing the pressure (only) changes the volume
'pressure x Volume = constant (for a constant mass of gas at constant temperature)
p1 X V1 = p2 X V2
eg. doubling the pressure would halve the volume.
• as temperature increases average KE of particles increases, so collisions are more forceful
and more frequent, so the pressure increases.
• the lowest attainable temperature is called absolute zero 0 K = - 273 0C
at absolute zero molecules stop moving so average KE of molecules is zero.
Temperature in K = temperature in 0C + 273, Temperature in 0C = temperature in K – 273
• pressure is proportional to absolute temperature (Kelvin Temperature), so doubling the
Kelvin temperature would double the pressure.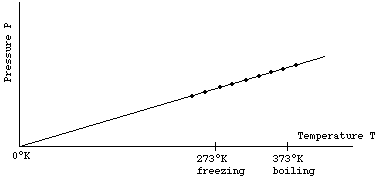 • the Kelvin temperature of a gas is proportional to the average KE of its molecules:
• The turning effect of a force is called the moment.
• The turning moment is given by the equation:
moment = force Χ perpendicular distance from the line of action of the force to the pivot
(newton metre, Nm) (newton, N) (metre, m)
• The centre of mass of a body is the point through which its weight acts.
• If suspended, a body will come to rest with its centre of mass directly below the point of suspension.
• If a body is balanced, the total clockwise moment = the total anticlockwise moment.
eg. W1 d1 = W2 d2 (P is the pivot)
• Stability of a body is improved with a lower centre of mass or a bigger base area.
• If the line of action of the weight of a body lies outside the base of the body there will be a
resultant moment making it topple:
<![if !vml]> <![endif]>
line of action of weight
3. GEARS
Gears can be used to:
• reverse rotation direction eg. if A is turned clockwise, B turns anticlockwise, and C turns clockwise
• <![if !supportLists]> <![endif]>increase the turning moment eg. in the example above R = 2r, so if D is turned the turning moment acting on wheel E is doubled
• change speed of rotation or number of rotations per second. D has 12 teeth but E has 24 teeth giving a ratio of 1: 2.
eg. if D is rotated at 20 rpm then E will turn at 10 rpm – a speed reducer.
`